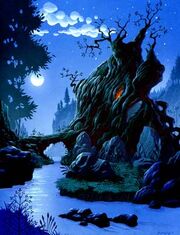 The Echo Chamber is a place in Shade Silverwing's colony where bats can listen to and tell stories of history, recent, or past. The first Echo Chamber was destroyed when the first Tree Haven was burnt down, and the the second is in the roots of the second Tree Haven, and was crafted by Shade Silverwing and Cassiel Silverwing.
Ad blocker interference detected!
Wikia is a free-to-use site that makes money from advertising. We have a modified experience for viewers using ad blockers

Wikia is not accessible if you've made further modifications. Remove the custom ad blocker rule(s) and the page will load as expected.